1,500+ Client Testimonials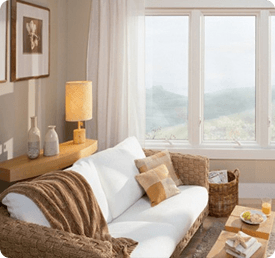 Here at Renewal by Andersen, we pride ourselves with our customer service and strive to ensure satisfaction from all of our customers. But don't just take our word for it, read what some of our happy customers are saying about us.
I am entirely satisfied with the appearance, fit, and finish of the windows. The operation is superior. I trust the durability will be superior.

John W.
Mike and Kyle were very professional. Good quality work, very thorough.

Renee F.
Worked very late into the evening to get the job done.

Will H.
The work and the crew were outstanding.

Fred W.
The installers were very professional and did an excellent job.

Kathleen C.
Very timely, professional and clean! Super job!

Rachel O.
Crew friendly, very conscientious and crew leader fixed my facia at corner of house which was a big help.

Jill R.
Very pleased with appearance of windows. Crew did a great job. Thank you for making this whole process easy!

Denise H.
It was fine. The installers were great. They were in and out pretty fast. The installers and the product I am very satisfied with, thrilled with actually. I love the product and ease of use and the installers were very detailed and went over the instructions, operation and clean up.

Tony C.
It was fine they did a great job. They showed up on time and did everything right. No complaints at all. Like most? Met our expectations. They did what they said they were going to and there were no complaints along the way. Five stars? Yes.

Steph A.
Great. The guy came back today and finished up. Everything is to our satisfaction. Like most? They were very friendly, quick and polite. Five stars? Yes.

Don H.
It went very well, they look very nice and function beautifully. I was really impressed with the crew. The guys seemed very capable and did a good job. They were timely, professional and courteous. Product- I like the windows. Five stars- yes!

Christine J.
Everything is good to go. All the windows are working great. Installers were good. I think they did a great job. They were very timely and nothing majorly wrong. We are satisfied. I haven't had time to fill out a survey and all that jazz, though. I am happy. I will not fill out the survey, probably.

Mason G.
Great. I am actually using my windows today. It all went great. The installers were timely, professional, did a great job and explained everything. I just did my work and they work. Dave called day of install. Five stars? yes. I think it was great. Nothing was bad.

Jeff B.