1,500+ Client Testimonials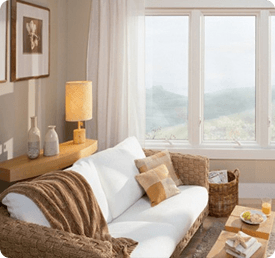 Here at Renewal by Andersen, we pride ourselves with our customer service and strive to ensure satisfaction from all of our customers. But don't just take our word for it, read what some of our happy customers are saying about us.
Oh it's very nice. The windows are very nice. The crew was very professional. I liked that they took them out and put them right back in since it was chilly outside. They did a good job.

Mark N.
I think it's all good! The guys were so polite. And the new windows made such a difference in the appearance, in everything. It just looks great!

Francine L.
So far so good, they're looking good. Everything's working out ok. I'm very pleased so far. Just everything went well and everyone was professional. They cleaned up well, there was no downside!

Bruce F.
Good, good. They look wonderful! We're happy. I like the look of the finished windows on the outside, they went to great lengths to make sure they matched the windows on the upper level that we replaced about 7 years ago. So it looks really nice.

Pam D.
Oh very good, very well. We're very pleased. They did a great job, wonderful job. They were very professional, very thorough, I'm very pleased. The signs out in the yard. I was very impressed! What stood out was the professionalism I guess, how everyone was so thorough from the sales rep to the measure tech and then Larry and the crew was fantastic. All around very professional.

Rickey M.
It turned out pretty good! The gentlemen were very kind and efficient and they did a good job!

Florence P.
Install & service: Turned out real good! The overall communication is really excellent. I always knew what was going on. The communication is very good, and overall a good quality product.

Mark L.
Good! Everything looks good, we're both happy with how it went. I wasn't there for the installation but everyone I came in contact with was. Overall it all went well. The finished work around the windows, it came out really nice

Josh S.
Everything went good, we really like them. They're beautiful windows! We've already received a lot of compliments on them. I'm trying to get some more customers for you!

Howard T.
It was awesome! Everything was amazing. I'm just excited to have new windows that I can actually open in the summer!

Aaron L.
It's great! They were very professional. We were very pleased, so far everything seems to be going well. It went flawlessly. You know,from the first meeting to the construction, it was great.

Jerry M.
Well everything turned out wonderfully! It looks beautiful! I had a monster of a window, and the crew was just great. They put up plastic on the inside so we didn't get a lot of dust. It's a huge 8 panel window, you were the only ones that could even come through with an estimate. We called Homespire and we got them pictures and measurements and they said it was too big and never even called us back. We were happy we went with Andersen. And they cleaned up very well, didn't leave a mess in the yard. That was a great crew.

Terry G.
It was great, I was amazed. I was expecting 3-4 guys to show up with that big bay window. But it was just Edwin and Igor and holy smokes their work was beautiful! And they left it spotless, they were professional and courteous. I'm so totally satisfied. And the way they finished up around the windows, it's just beautiful! I haven't stopped raving about Andersen since! I went to a party yesterday and I was telling everyone about you and how great it was. The end result is great, I was just really impressed with their talent and efficiency. I can't stop looking at them! Overall experience was great!

Patricia B.
vm from customer: This is Michael Weidman, I'm calling on behalf of Ashley. I was there when the windows were installed. Everything went well. Nick and Dean did a marvelous job. Everything went really well. Thank you so much.

Ashley W.
It was great! Yes the windows are great, we love them! And it's so nice to finally be able to open them! It was done in a day! So that was nice. And it was fast, it was when they said it would be in, they were here a week later and put them in all in a day. Everything was great.

Melanie O.
Very nice installers. Great work!

William & Susan B.
We are very pleased – the installers were very professional and extremely courteous.

Vickie & David A.
Guys did a good professional job.

Scott & Nancy T.
Excellent work and windows.

Roger & Sandy D.