Fibrex Windows: A Better Alternative for a Better Window

Renewal by Andersen Introduces Fibrex Material
The introduction of Fibrex material is one of our most innovative ideas. Fibrex combines the strength and stability of wood with the low-maintenance features of vinyl. In 1992, Andersen patented this Fibrex material that today is the perfect choice for your new replacement windows.
Advantages of Fibrex Material Compared to Other Materials
Strength
Due to the strength of Fibrex material, we are able to make our sash and frames narrower, which means more glass and more view.
Vinyl Frames- Vinyl frames tend to have a higher expansion rate and can bow, which breaks the glass seal.
Insulation
Since Fibrex material is combined with Andersen High Performance Low-E4 glass, which helps your home stay warm in the winter and cool in the summer, it has superior thermal insulating properties. This also will help you save money on your energy bills
Aluminum Frames- Aluminum window frames allow heat to leak out of your house in the winter and into your house in the summer.
Low Maintenance
The beauty of Fibrex material is that it never needs scraping or painting because it won't rot, decay or mold.
Fiberglass Frames- Since Fiberglass frames are painted, they may need regular maintenance.
Beauty
With replacement windows by Renewal by Andersen, we preserve the architectural beauty of your home. The sash design and frame reflect the lines and shape of your original windows. Fibrex material can be made into any kind of window, including curved specialty windows.
Vinyl and Fiberglass frames-Vinyl frame material tends to be thicker, which reduces the glass area. Fiberglass is only able to be made into straight lineals.
Environmental Responsibility
40% of the raw material by weight used to make Fibrex material is from clean, reclaimed wood. Our windows meet Green Seal's science-based environmental certification standards along with being Energy Star qualified for meeting strict energy efficiency criteria set by the U.S. Department of Energy. Andersen windows are the only windows with Green Seal certification.
Fiberglass- Fiberglass is a thermostat material and is unable to be reformed into new profiles.
Warranty
A window is not supposed to be just glass and some framing material. It is a precise combination of glass, frame, and quality installation. We back all of our windows with a 20/2/10 Limited Warranty that is one of the best in the business.
Other firms- Over half of all remodeling firms have been in business for less than four years, meaning that installation is rarely covered in the written warranty.
Excellent Insulator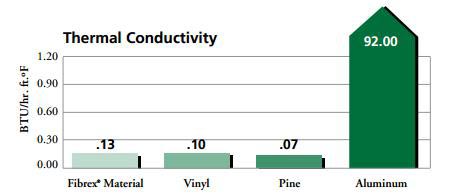 Fibrex material has excellent insulating properties on a par with vinyl, fiberglass, and wood. Aluminum transfers heat out of your house and allows outdoor cold temperatures to chill the areas around your windows inside. Fibrex material insulates about 700 times better than aluminum.
Durable and Reliable

Fibrex material expands and contracts very little. Vinyl on the other hand, expands and contracts a lot, which can lead to cracking, bowing, and leaking of air and water. Fibrex material windows are able to perform better in every season no matter how cold the winters can be or how high the summer heat may be in your area.
Decay-resistant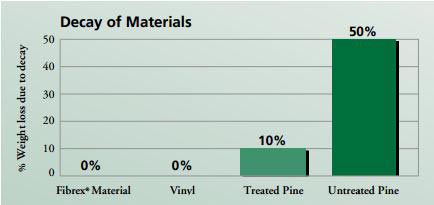 Due to a special polymer formulation that surrounds and coats each wood fiber in the manufacturing process of Fibrex material, exceptional resistance is provided to rot and fungal growth. Renewal by Andersen's windows that are made with Fibrex materials never need scraping or painting because they are backed by are warranty not to flake, rust, peel, blister, crack, pit or corrode.
Stable and Predictable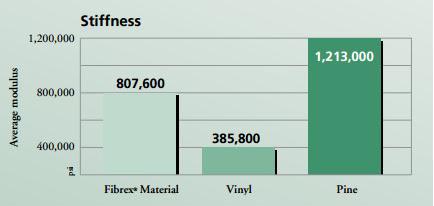 Compared to vinyl, Fibrex material is twice as stable and rigid. The average stiffness of wood is higher, but is also less predictable then Fibrex material because of the natural variations of wood, like grain, knots and moisture content. Since Fibrex material is strong, frames are able to be made narrower than other framing materials, meaning more glass and more view. Fibrex material is able to be made into any style of window and in colors that complement every home.