Once you've shortlisted your window design choices, it's time to consider materials. Window material will matter in almost every aspect of a window replacement project, from product and labor costs to window maintenance and longevity. Needless to say, you have to choose the right window materials to ensure that your investment proves worth it.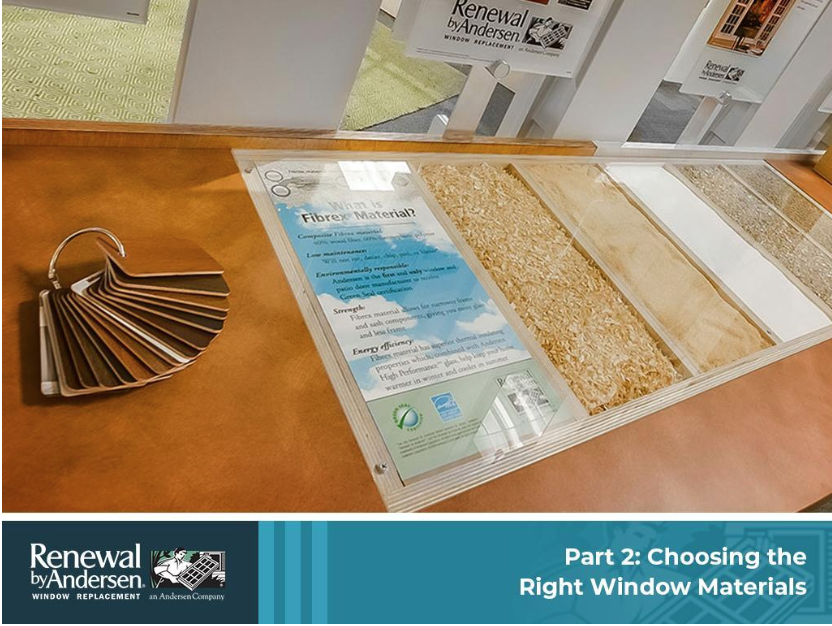 Today's Top Window Materials: Your Best Options
The window replacement industry is a huge one, with different manufacturers specializing in different types of products. Now, with all the products available on the market, you have to learn about the different kinds of window materials to ease the deciding process. Below are the most common window frame options available to help you get started:
Vinyl –

Vinyl windows are best known for their affordability. They are also easy to maintain, but some may find them less elegant-looking than other materials.
Wood –

Wood windows are the classic choice, offering Old-World charm with timeless appeal. Unfortunately, they require rigorous maintenance to stay beautiful and reliable.

Composite –

Composite windows, like Renewal by Andersen®'s Fibrex®, combines wood fibers and other materials. These create highly durable framing material that combines the benefits of wood and vinyl, for instance, resulting in windows that insulate well, look good and don't need a ton of upkeep.
Don't Forget About the Glass
Of course, windows are not all frame. You should also choose a window glass package that is not only durable but will also help make your windows more highly insulative and energy-efficient on the overall. To this end, it's best to choose window glass that have the following features:
Low-emissivity coating –

Virtually invisible metallic oxide coating, it reflects away as much heat as possible without compromising light transmittance.
Two glass panes

– Dual-pane windows are designed to help stunt heat transfer, aiding in maintaining ideal indoor temperatures.

Gas fill –

Inert gas, such as argon or krypton, that is better than regular air in insulating against heat transfer.

High-quality seals

– Limits air leakage, keeping indoor heat in and outdoor heat out.
The right window design and materials are just two parts of the perfect window replacement equation. Head on over to the final part of this blog series to know more about another important factor: your window contractor. Stay tuned!