A door that's frozen shut during the winter can be a major inconvenience and even a safety hazard. Fortunately, like frozen windows, this issue is preventable. In this blog, Renewal by Andersen® of Central Pennsylvania shares tips on how to keep your entry doors from freezing shut during the winter.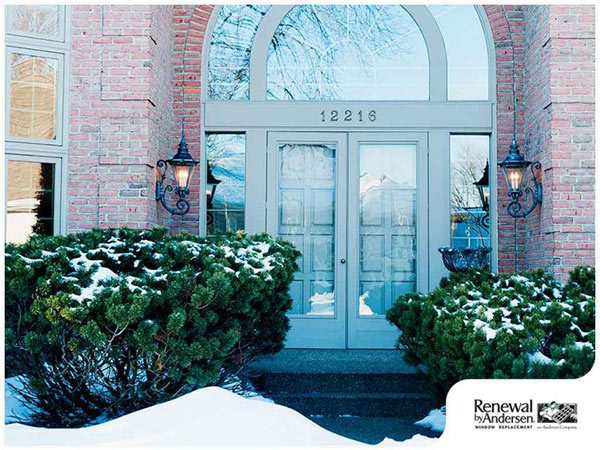 Check the Weatherstripping
Doors that leak heat from the inside can melt some of the snow on the door, which will then refreeze as solid ice around the door's perimeter. Before winter fully sets in, inspect the weatherstripping around your door. If you find cracks, tears or missing sections, have the weatherstripping replaced. You may have to call a professional to do so if your door has metal weatherstripping.
Check the Door's Alignment
Sometimes door sashes fall out of alignment with the frame, which creates gaps around the edges. Certain types of patio doors and replacement windows have hardware that can be realigned if the frame and/or the sash becomes warped. In many cases, proper hardware adjustment is all that's needed to prevent heat leaks.
Install a Door Sweep
A door sweep is a strip of brush that helps seal the bottom of a hinged door. It helps prevent heat from seeping through the gap under the door and comes in standard sizes; a typical French door may require two sets. If your patio door is still under warranty, consult your patio door contractor to make sure installing a door sweep won't void your warranty.
What to Do If Your Door Is Already Frozen
Do not force your door open if it's frozen shut. This can damage the sashes and even break the glass. Instead, try using an ice scraper (or a similar tool like a plastic spatula) to remove the ice. Avoid using any metal tool as this could damage the paint or glass. You can also melt the ice by using a hair dryer, or by pouring a pitcher of warm water on the ice. Never use hot water, as the sudden change in temperature could crack the glass.
Renewal by Andersen of Central Pennsylvania is your leading provider of patio doors, as well as popular window styles like sliding windows. Give us a call at (717) 591-4900 or fill out our contact form. We serve customers in Lancaster, PA, and nearby areas.