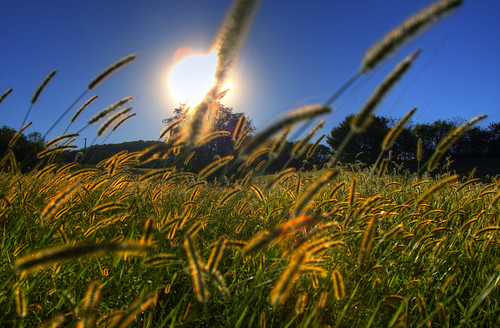 Photo: davedetre
Summer days can range from sunny to sweltering. Keeping the house cool by blasting the AC can quickly run up the bill and is a strain on the cooling unit. Before packing up and moving to the North Pole in frustration, try using some of these tips to beat the heat.
Put on Some "Cool Shades"
Proper shading is key to keeping a house cool. Keep shutters or curtains closed on east-facing windows (during the morning) and west-facing windows (during the afternoon) and also on any other windows that get direct sunlight during the day.
Installing mini blinds or window shades (especially white ones) can cut solar heat intake in half. An even more efficient option is to hang tightly woven screens or shades on the outside of windows. This will drastically cut down on solar heat, especially on windows that get abused by direct sunlight.
Catch a Breeze, but Keep the Heat Out
Open windows can either be a boon or a curse. If the outside temperature is 77°F or cooler (as a general guide), take advantage of the free ventilation and open some windows. Experiment with manipulating cross drafts and open windows on opposite sides of the house. Also, make sure to open windows in the direction the wind is blowing to let in some moving air.
On the other hand, if the outside temperatures are very high, keep the windows shut and covered. It's better to keep the sunlight and the humidity out than to hope to catch a breeze. Keep the air moving through the house with fans instead.
Give the AC a Break
Don't leave the AC running all day, especially if there are other easy ways to keep cool. If no one will be home for a long stretch of time (and there are no pets in the house), turn off the AC and leave it off until someone returns. This will reduce wear and tear on the unit and will save money.
If ceiling and free-standing fans are used in the house, set the thermostat higher to cut down on AC usage. Also, during the night, try turning off the unit entirely and ventilate the house with open windows or fans.
As always, maintenance is key. Check AC units frequently and get problems fixed as early as possible. Trying to live in a hot and humid house while waiting for an overbooked repairman can be stressful and unhealthy. Stay on top of things and eliminate potential problems before they happen.
Keeping the heat out is essential during the summer months. So if the North Pole is not in the budget, just play it smart and take advantage of these simple ways to stay cool.