The factors you'll need to consider in a window replacement will vary depending on the room you're installing the units in. So if you're planning to get new ones for the bath space, your choices may be influenced by a few essentials. Renewal by Andersen® of Central Pennsylvania, the trusted source of quality windows and hinged French doors, shares some of them here.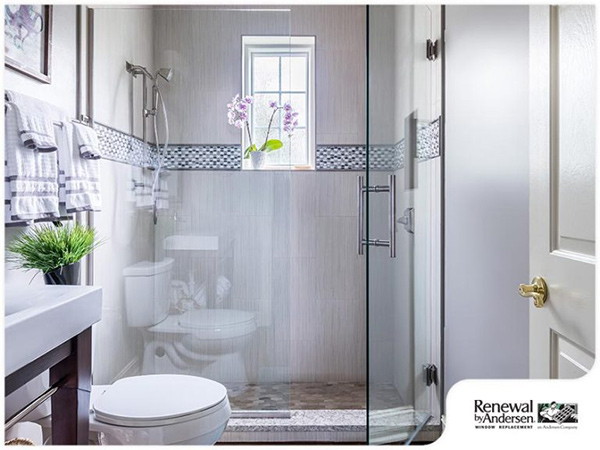 Ventilation. As with the kitchen, your bathroom uses a significant amount of water, which can contribute to high levels of humidity. To improve air quality in this space and prevent the growth of mold and mildew, pick windows that can improve your access to natural ventilation. Renewal by Andersen® of Central Pennsylvania offers top-tier replacement double-hung and casement windows. Both allow cooler, healthier breezes to enter your bathroom, while expelling warm, stale air out. These windows can also get rid of lingering odors, keeping the space fresh.
Privacy. Windows in the bathroom are generally smaller. But if you want to get bigger ones, there are ways to integrate them into the space without compromising your privacy. For example, you can have your larger windows installed closer to the ceiling, or have a row of fixed ones placed closer to the floor. Ask a reliable windows and patio doors company like Renewal by Andersen® of Central Pennsylvania how you can effectively incorporate this design into your bath space.
Window Material. Warmth and moisture buildup inside your bathroom can encourage rot and warping in windows, especially in wood windows. You might want to choose a warp-resistant material for your new units. Renewal by Andersen® of Central Pennsylvania can help you with this. Our replacement windows use exclusive Fibrex® composite, which offers the superior durability and insulating properties of wood–but not its propensity to moisture damage. Fibrex window material won't crack, pit, or corrode, ensuring dependable and longer-lasting performance.
Aside from working on sliding Contemporary doors, Renewal by Andersen® of Central Pennsylvania can also handle your bathroom window installation. With our professional team, we'll help you explore your options and choose the window that best suits the space. We proudly serve the areas in and around Reading and State College, PA. Call us today at (717) 591-4900 or fill out this contact form to schedule your consultation. We'd love to hear from you!