Having trouble getting a good night's rest or taking an afternoon nap? Your windows might be partly to blame. Too much exposure to light, whether it's artificial light from street lamps or natural light from the sun, can disrupt sleep patterns.
If you're considering installing replacement windows to improve your sleep quality, make sure to take into account these factors before choosing new windows: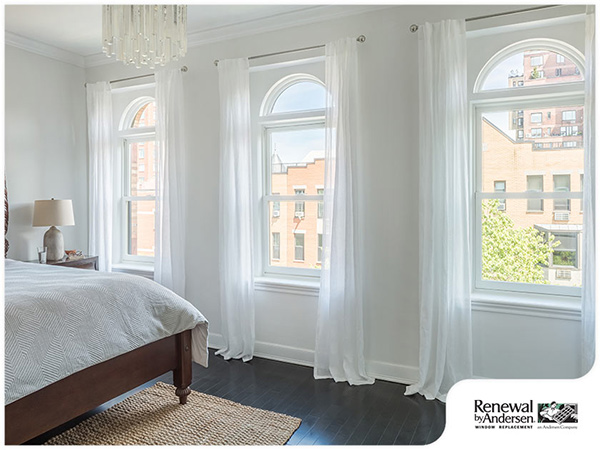 Light
Your body preps itself for sleep by producing more melatonin—the hormone that regulates your sleep cycle—as it gets darker outside. Exposure to too much light can make it hard to fall asleep and disrupt your sleep patterns. To regulate the amount of light entering your bedroom, you can install window treatments.
Room Temperature
It's hard to take a quick afternoon nap in a bedroom that's uncomfortably warm. The optimal temperature for sleeping is somewhere between 60 and 67 degrees Fahrenheit. To help keep the temperature in your bedroom at a comfortable level, you can install energy-efficient windows.
Most energy-efficient windows have glass coatings that help minimize heat transfer. Renewal by Andersen offers a wide variety of energy-efficient glass options. Our most energy-efficient glass option is the SmartSun™ glass, which is 70% and 47% more energy-efficient than standard dual glass panes in summer and winter, respectively. Combined with an insulative frame material like Fibrex®, SmartSun glass can help keep temperatures at a comfortable level while reducing household heating and cooling costs.
Sound
Can't stand outside noise? Dual-pane windows can partially reduce sound transmission, helping you sleep better at night. To learn more about your window options, consult a professional contractor.
Renewal by Andersen® of Central Pennsylvania offers a wide variety of premium windows, including casement and sliding windows. To schedule a free consultation, call us at (888) 531-7865 or fill out this form.