Not all windows are created the same, especially when it comes to material. Here are some of the most common materials used to manufacture window frames and sashes: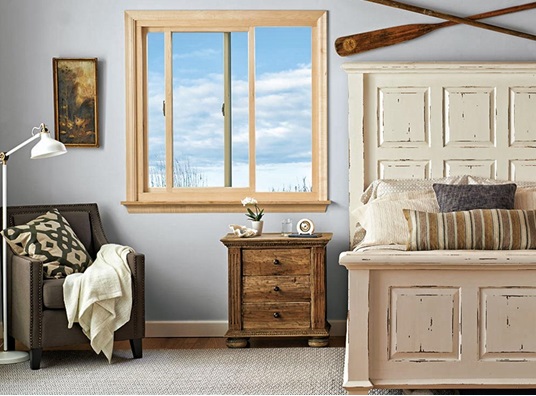 ● Wood and clad-wood
● Vinyl
● Aluminum
● Fiberglass
All of these materials have been popular at one time or another and all of them have their respective pros and cons. Wood is preferred for its classy, traditional appearance, capacity for handling detailed designs, and great insulation. Meanwhile, vinyl is strong and durable. The list goes on.
Nonetheless, Renewal by Andersen®, the largest supplier of modern windows in the United States, uses an exclusive composite material for manufacturing replacement windows in York, PA. It's called Fibrex®, and all our window frames and sashes are created using this special material.
What is Fibrex® and How Does it Differ from Other Materials?
● Fibrex® is 40% wood fiber and 60% thermoplastic (PVC) polymer by weight. The wood fiber is mostly sourced from other Andersen manufacturing processes so it's sustainable. Some of the thermoplastic polymer is also reclaimed.
● During production, a unique fabrication process blends the color with the Fibrex material so the color lasts. There are no repainting costs, either.
● Because it doesn't need painting or wood preservative treatment, Fibrex reduces VOC emissions.
● It's twice as strong as vinyl. The weather tight seals stays that way. Fibrex® frames and sashes are narrower, so you have more glass, more light, and more view.
● Fibrex® blocks thermal transfer almost 700 times better than aluminum windows. This means you pay a lot less for indoor heating and cooling, thanks to your windows in York, PA.
● It's highly resistant to wear and stays strong in any climate.
● It won't rot, decay, peel, and it's immune to fungal growth and termites.
● It's simply beautiful and very low-maintenance.
Whether it's casement windows in York, PA, or double-hung windows somewhere else, Renewal by Andersen uses Fibrex, so you can be sure that your windows are energy efficient, sturdy, and stylish. Fibrex frames and sashes, in tandem with Renewal's exclusive High-Performance™ Low-E4® and High-Performance Low-E4 SmartSun™ glass, are your best option when it comes to window replacement.
For a free estimate, just give us a call at (717) 591-4900.