Choosing the right kind of frame material for replacement windows used to involve trade-offs. Wood was favored for its durability, beauty, and insulation, but is susceptible to expansion and contraction due to temperature changes. Vinyl, on the other hand, requires minimal maintenance, but is nowhere near as durable as wood. The good news is, homeowners can now enjoy the best of both worlds. After over 30 years of development, our parent company, Andersen® Corporation, patented our exclusive Fibrex® material, a composite of wood fibers and polymer that has been used in all Renewal by Andersen® replacement windows ever since. Fibrex material frames offer the following benefits: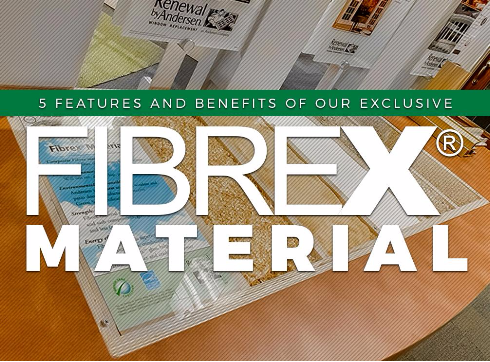 1. Strength and Stability: Windows are constantly exposed to temperature changes, so the frame material needs to be strong and stable enough to endure these shifts without sacrificing performance. Fibrex material is twice as strong as vinyl frames, and thanks to its unique wood fiber and polymer combination, it expands and contracts far lesser than either wood or vinyl. It is also warranted not to crack, pit, corrode, or rot. Stable window frames are also much less prone to admitting drafts.
2. Beauty: Fibrex requires only a single layer of material, as opposed to aluminum frames with vinyl cladding. This allows us to build replacement windows with stainable interior wood finishes and deep wood grain that are perfect for matching your interior trim and furniture.
3. Minimal Maintenance Requirements: Despite its shortcomings, vinyl is still favored by many homeowners because it's easy to clean. Fibrex offers the same low-maintenance benefit: all you need to clean it is a mild soap-and-water solution. Our High-Performance™ Low-E4® glass complements Fibrex's low maintenance features, thanks to a metal oxide exterior coating that reduces 99% of water spots when activated by sunlight.
4. Energy Efficiency: When it comes to insulation, Fibrex material frames are on par with wood frames. Combined with our High-Performance Low-E4 glass and precise installation procedures, our replacement windows minimize thermal transfer and ultimately lower your energy bills.
5. Sustainability: If going green is a factor when choosing your replacement windows, you'll be glad to know that Fibrex frames contain up to 40% wood fiber by weight. These wood fibers are reclaimed from Andersen Corporation's wood window manufacturing facilities. Our High-Performance Low-E4 glass are likewise made with at least 12% reclaimed glass by weight.
Fibrex material allows us to build any window style, including sliding windows, without sacrificing any of the aforementioned benefits. Call Renewal by Andersen® of Central PA today at (717) 591-4900 or fill out our contact form to schedule a free in-home consultation and price quote. We serve Lancaster, PA, and nearby areas in South Central PA.