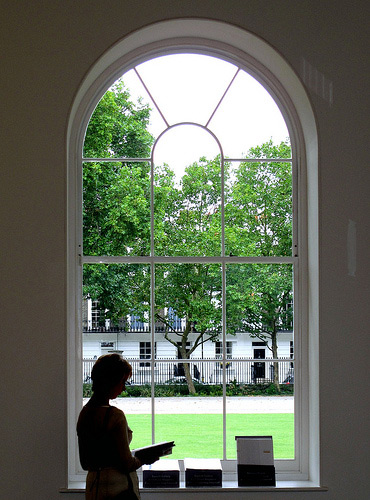 Image: Michael Summers
Just like our wardrobes, our homes can all use a bit of brightening up once the spring solstice appears on the calendar. Instead of spending a fortune on costly new furniture, why not take a look at your windows? Changing the look and feel of your home has never been easier than it is today, so check out these trendy window treatments that are changing the way professionals decorate their clients' homes.
Sliding Window Panels
Sliding window panels, the newest and most elegant window treatment trend, improve light, work well with oversized windows, lend themselves to a variety of home décor styles and come in a variety of fabrics.
Sliding panels look and act just as sliding doors do, and they come in sheer and solid fabrics. Textured models allow some light to filter through, which is ideal for when you enjoy a nice, bright room but you don't want to get a bird's eye view of Mrs. Peacock watering her petunias in a two-sizes-too-small swimsuit. Note, however, that sliding panels work on tracks, which may make them inappropriate
should kids and pets prove problematic.
Make a Cave
Are you a vampire? Does the morning sun make you cringe in agony? Then invest in room-darkening blinds. Some even work on a remote control, making your morning (or afternoon) fully automated. Simply press a button and watch as daylight appears as if from nowhere.
Cornices and Hardware
Changing the appearance of your window can be as easy as adding a cornice, a wood frame that highlights the window. These are especially effective if your windows or drapes are brand new, and cornices effectively turn an ignored spot into a decorative
focal point with ease and grace.
If cornices aren't in the budget, try replacing your hardware. Thick burnished brass, metal or wooden rods create an entirely new look with ease. Don't forget to add finials for that special decorative touch.
Finally, it's essential to keep your windows clean! For the best results, use water mixed with a few drops of dish soap, rubbing alcohol or vinegar for a hassle-free, streak-free shine.