Patio doors are a worthwhile investment. They allow ample amounts of natural light into your home, improving your indoor comfort and creating an open and welcoming atmosphere. Additionally, by incorporating the right design elements, they can create a seamless transition from the indoors to the outdoors. Read on as Renewal by Andersen® of Central Pennsylvania shares tips on how to achieve this effect: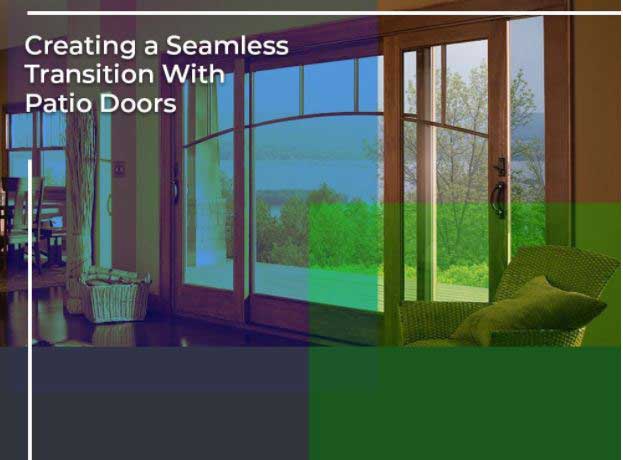 Match Floor Levels
Achieve continuity by matching the height of your patio with your indoor floors. You can do this by building a gravel bed with a drainage channel underneath. This is a great way to add decor to your patio and prevent water from entering your home. You can achieve a cohesive look by choosing an interior and exterior color that complements your flooring.  We have a range of patio door options that come in an array of finishes, colors and hardware options that will go well with different home styles.
Create an Illusion
Your patio door can visually bridge your interior and exterior spaces. To achieve this effect, choose units with narrow frames and large glass areas like our sliding contemporary doors. Running low on interior space? No need to worry, as our sliding doors move horizontally on a track so you won't need extra space to operate them. With our sliding patio doors, you can enjoy expansive views with a chic, modern appeal.
Lose the Wall
Incorporate the beauty of the outdoors to your interior by installing floor-to-ceiling doors. Our French patio doors are the perfect choice for this. They create a large opening, ideal for moving large items or allowing heavy foot traffic. Both panels are fully operable, inviting a great amount of ventilation into your home.
Aside from your patio doors' aesthetic value, it's important to make sure your home's comfort and protection aren't compromised. Both our sliding and hinged French doors feature a reinforced locking system that provides your home the security your family needs. Call us today at (717) 591-4900 to learn more about our patio doors. We serve State College, Reading and nearby PA areas.