Having trouble deciding between hinged or sliding patio doors? Let Renewal by Andersen® help you make the right choice with this quick guide to the features of our patio doors.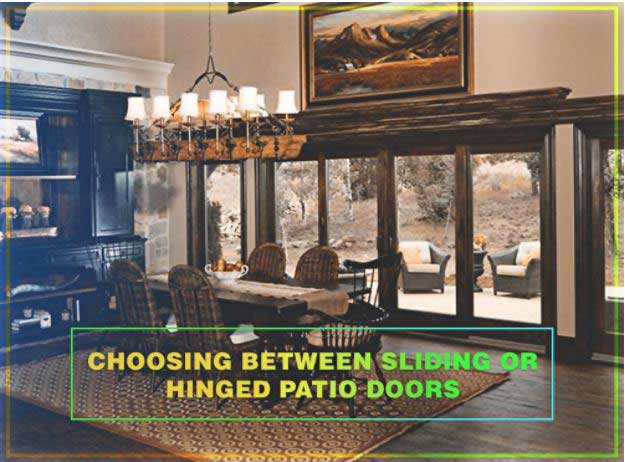 Contemporary Sliding Doors
Sliding doors are typically seen on homes with contemporary architectural styles, favored by homeowners who need patio doors with a minimalist design, a bigger glass area and space-saving features. With sliding doors, your design options are virtually limitless; you can customize colors, finish and hardware to complement the other design components of your interior and exterior.
Contemporary sliding doors are ideal for homes without the space to accommodate hinged doors. Since the weight of the door sashes rests on the bottom frame, you can install large patio doors without taking up any floor space. The quality of the track system is important, which is why our sliding patio doors feature Andersen®-designed adjustable self-lubricating tandem rollers that have steel wheels with ball bearings. This innovative design balances weight distribution, making it feel like our sliding doors are gliding on air.
Traditional French Doors
Traditional architectural styles call for an equally traditional patio door style: hinged French doors. The in-swinging design makes full use of the doorway space, creating an aesthetically pleasing visual perspective that reinforces the feeling of unified indoor and outdoor living spaces. Frames and grilles occupy a significant portion of the door sash.
If floor space is limited, don't worry. Our Frenchwood® patio doors are also offered in an out-swinging option, available in stainable pine, oak, and maple finishes as well as a sliding French door configuration. Whatever style you choose, our patio doors feature insulated, low-maintenance frames and energy-efficient High-Performance™ Low-E4® glass.
Explore our hinged French doors and sliding contemporary doors today by calling Renewal by Andersen of Central Pennsylvania at (717) 591-4900. You can also fill out our contact form to schedule a free, in-home consultation. We serve many areas in and near State College and Reading, PA.